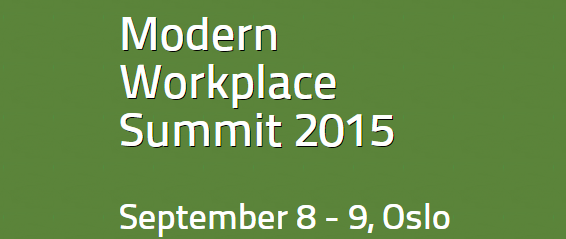 In approx. a month, Modern Workplace Summit 2015 will be held in Oslo, Norway. The dates are Sep. 8th – 9th 2015.
Learn from over 25 leading community speakers, on this two-day event, with tracks that cover Office 365, Skype for business, Windows 10 and business productivity. Especially the way you can use all those technologies in your company to create your own modern workplace.
I will be speaking at the Modern Workplace Summit 2015
The agenda for the Modern Workplace Summit is live and I'm delighted and honored to announce that I was chosen to speak at the first Modern Workplace Summit ever.
If you need to create a strategy for collaboration, cloud, migration, or how to increase end user adoption then this is the conference for you to participate. Take a look the impressive speaker line-up, and even more impressive agenda with over 50 sessions for you to choose from.
I will be presenting on the Office 365 Track, my session is:
Title: Modern Public Folders – Overview and how to migrate your Public Folders to Exchange Online
Abstract: Join Exchange expert and Microsoft MVP Peter Schmidt and learn everything you need to know about the architecture and features of Modern Public Folders.
Learn about collaboration using Modern Public Folders in Exchange Online, what you need to consider before migrating, and how to migrate your on-premise Public Folders to Exchange Online.
Book now or read more on the Modern Workplace Summit 2015 website – See you there!