What is Bing Chat Enterprise?
Bing Chat Enterprise, which is currently available in Preview, gives your organization AI-powered chat, based on OpenAI's GPT-4 model for work with commercial data protection.
With Bing Chat Enterprise, user and business data is protected and won't leak outside the organization. What goes in—and comes out—remains protected. Chat data isn't saved, and Microsoft has no eyes-on access—which means no one can view your data. And your data isn't used to train the models.
With Bing Chat Enterprise, You can see your input is protected, compared to the Consumer version of Bing Chat, here the data is used to train the AI model.

Full documentation on Bing Chat Enterprise Privacy and Protections can be found here:
Since this is currently available in Preview, you will have to opt-in to test the Bing CHat Enterprise, how to opt-in will be described later in the blog post.
It will eventually be turned on by default on August 17th, 2023 for all tenants and if you do not want to offer Bing Chat Enterprise to your end-users, you can opt-out. 
Bing Chat Enterprise Licensing
Bing Chat Enterprise is available in Preview and is included at no additional cost in Microsoft 365 E3, E5, Business Standard, and Business Premium SKUs.
In the future, it looks like it will be available as a stand-alone offering for $5 per user, per month.
You will be able to access Bing Chat Enterprise using your work account wherever Bing Chat is supported, such as https://bing.com/chat and the Microsoft Edge sidebar. In the future, Bing Chat Enterprise will also be accessible from Windows Copilot.
How to Enable it for Your Organization
Here are the overall steps to enable it for all end-users in your organization:
To enable Bing Chat Enterprise before mid-August, your organization needs to have the following configuration completed by a Global admin or Search admin:
Ensure the Microsoft Search in Bing setting in the Microsoft 365 admin center is turned on.
Go to https://aka.ms/TurnOnBCE to opt into Bing Chat Enterprise, using a tenant admin.
Click Turn On and confirm: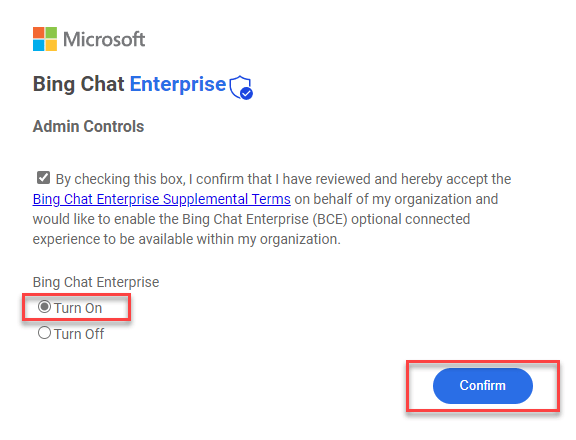 Next it will show if the enabling is successful:
Confirm none of the settings to manage Bing Chat are preventing access to Bing Chat.
This change may take 2-4 hours to go into effect.
Reference documentation – which also shows how to opt out of Bing Chat Enterprise:
Having trouble enabling it for your organization?
If you have trouble enabling it. I know I did have problems enabling it in the beginning and the workaround was to sign out of Bing.com and make sure I was not logged in with either my work account or my Microsoft. Turned out, I was signed in with both.
Workaround steps:
Make sure you are not signed into any accounts in Bing.com
Then sign in with your work account
Run the wizard in the opt in link again (https://aka.ms/TurnOnBCE) – remember the account must be tenant admin
Then it worked for me and Bing Chat now looks like this: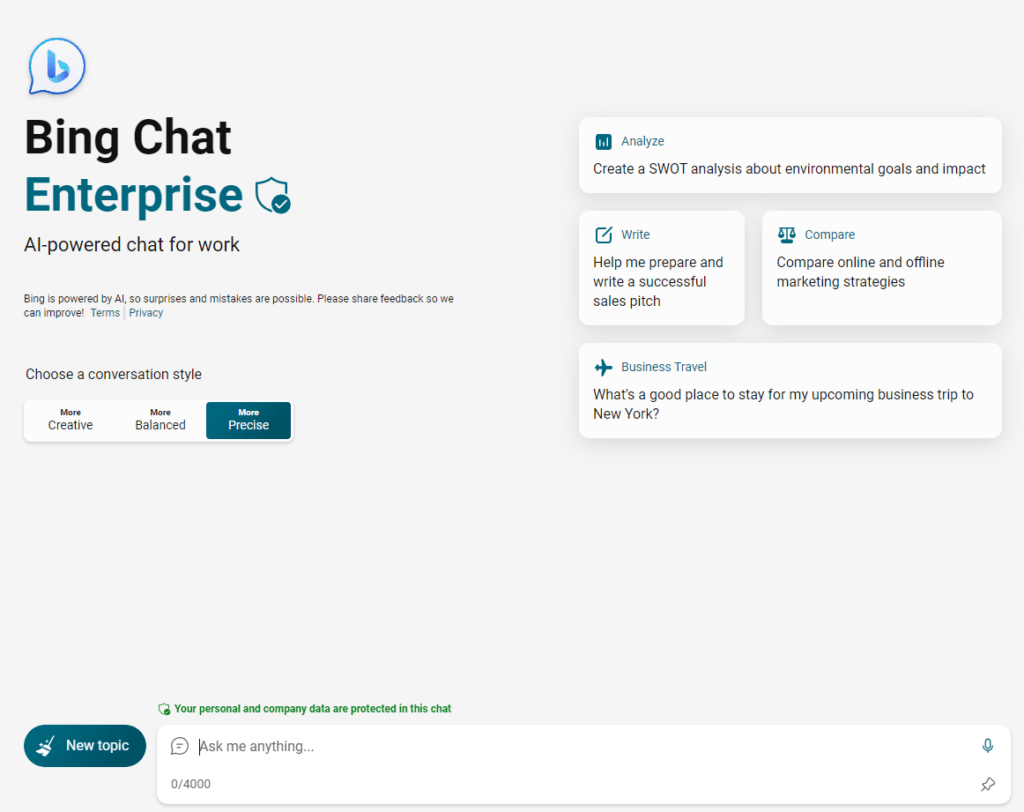 Reference documentation on Bing Chat Enterprise: