I am delighted to share, that I will be speaking again this year, at the European SharePoint Conference 2019 (#ESPC19), which this year is held in Prague.
The ESPC is the largest SharePoint, Office 365 & Azure event in Europe.
ESPC is known to be one of Europe's leading online communities, providing educational resources and encouraging collaboration. The event brings the best minds in IT to share their knowledge, experience, and guidance on all things Microsoft Office 365, SharePoint and Azure.
The dates for the conference is December 2nd – 5th 2019.
The program includes more content catering to IT professionals, developer, and business decision-makers. Hear topics from established experts regarding the digital workplace and learn best practices from Microsoft's stack that can be employed immediately. This includes team collaboration, security, edge computing, developing for PaaS, infrastructure, IoT and AI, to highlight a few.
I have the pleasure of delivering a session about Phishing: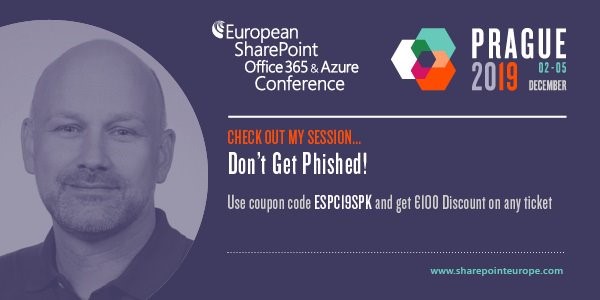 More about my session: Don't Get Phished
Read more about ESPC and the agenda on https://www.sharepointeurope.com/
Use this coupon code ESPC19SPK to receive a €100 discount, if you are going to register for the event. Remember Early Bird ends Sep. 26th. 2019.
See you there.
/Peter
/Peter