This week, It has been exactly 10 years, since I started my own blog, writing about technical information and notes I stumble across in my daily life, basically sharing my knowledge.
The blog
My blog started as IIS Digest, with focus on Microsoft technologies used for web hosting and the Internet Information Services. Since Microsoft technologies has always been the main focus, my focus shifted over the years and even though I have been working with Exchange now for over 15 years, Exchange has always been part of the blog. So after a few years, I changed the name of my blog to msdigest.net – which is still the name of my blog.
A lot has changed with the site over the years, besides the look and feel, evolution shown below.
When the site started out back in 2005 it was using Blogger as the blog engine and looked like: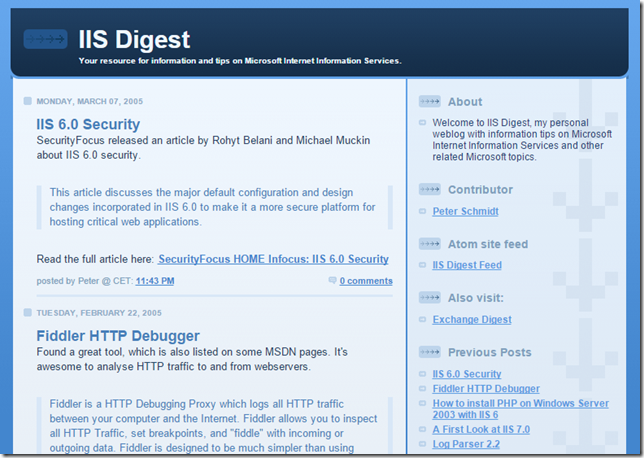 The after a few years, I migrated the content to WordPress: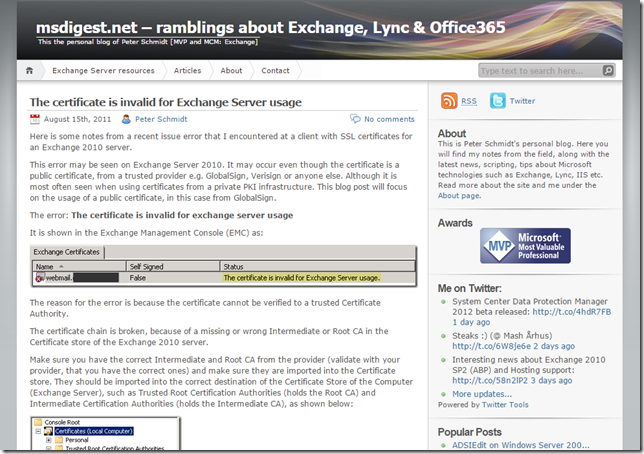 This is what the site now looks like, entering 2015, still running on WordPress: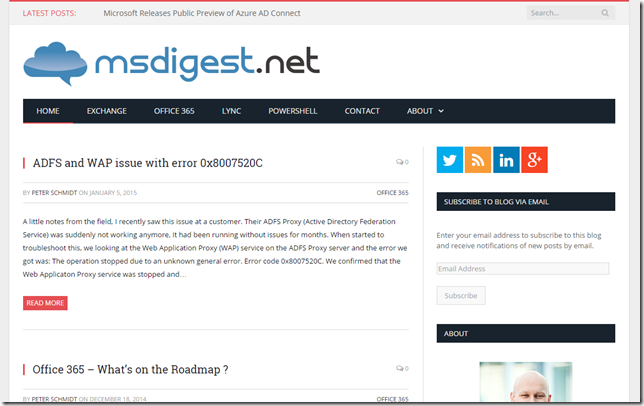 The blog has grow and I am happy that so many find my blog post helpful and interesting. Currently I have approx. 100.000 unique users every month from all over the world.
My life
My life has also changed a lot, I have over the years become a father of two great kids (a son and a daughter) and on the professional side, I have gone through the Microsoft Certified Master training and certification on Exchange 2007 and Exchange 2010 and learned A LOT.
About the MCM and MSCM Program:

The Microsoft masters-level certifications validate the deepest level of product expertise, in addition to the ability to design and build the most innovative solutions for complex, on-premises and hybrid enterprise environments using Microsoft technologies.
Since then the program has been shut down by Microsoft, actually just a month before I was scheduled to upgrade my MCM to MCSM: Exchange 2013.
I have been awarded as an Microsoft MVP, first nomination in 2007 and every year since then.
Besides blogging, I am active in various communities and back in 2010 I started the first danish User Group for Unified Communication called CoLabora, with focus on Lync, Exchange and Office 365.
I have done more and more in speaking at events or smaller user group meetings, about everything between Exchange, Lync and Office 365. I have been a regular speaker at the annual Danish Microsoft Conference called Microsoft Campus Days, which has been held for 4 years now. Next month I will giving two presentations at the Nordic Infrastructure Conference 2015 in Oslo.
So I enter a new decade of blogging with a new and optimized blog and hopefully a lot of new users to come.