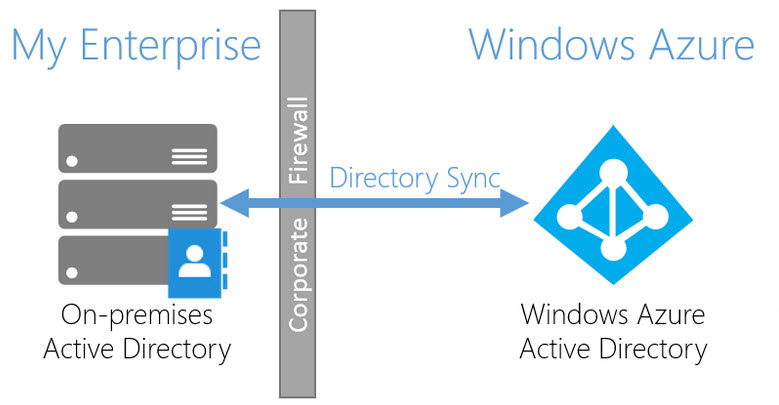 Last week, Microsoft silently released a new updated version of Azure Active Directory Connect (Azure AD Connect), previously known of Azure AD Sync Tool and DirSync.
Azure AD Connect is the tool to connecting your Directory with Office 365 and Azure Services. It's The tool to Connect your AD Foest or Forests with Azure and Office 365 services.
This new version is build: 1.0.8667.
Integrating your on-premises directories with Azure AD makes your users more productive by providing a common identity for accessing both cloud and on-premises resources. With this integration users and organizations can take advantage of the following:

Organizations can provide users with a common hybrid identity across on-premises or cloud-based services leveraging Windows Server Active Directory and then connecting to Azure Active Directory.
Administrators can provide conditional access based on application resource, device and user identity, network location and multifactor authentication.
Users can leverage their common identity through accounts in Azure AD to Office 365, Intune, SaaS apps and third-party applications.
Developers can build applications that leverage the common identity model, integrating applications into Active Directory on-premises or Azure for cloud-based applications

Azure AD Connect makes this integration easy and simplifies the management of your on-premises and cloud identity infrastructure.
Download it here: Microsoft Azure Acitve Directory Connect
The old tool Azure AD Sync is still fully supported.
This update is addressing issues which are mainly installation related. See the list of changes here:
New features:
The Azure AD Connect installation wizard is now localized to all Windows Server languages.
Added support for account unlock when using Azure AD password management.
Fixed issues:
Azure AD Connect installation wizard crashes if another user continues installation rather than the person who first started the installation.
If a previous uninstall of Azure AD Connect fails to uninstall Azure AD Connect sync cleanly, it is not possible to reinstall.
Cannot install Azure AD Connect using Express install if the user is not in the root domain of the forest or if a non-English version of Active Directory is used.
If the FQDN of the Active Directory user account cannot be resolved, a misleading error message "Failed to commit the schema" is shown.
If the account used on the Active Directory Connector is changed outside the wizard, the wizard will fail on subsequent runs.
Azure AD Connect sometimes fails to install on a domain controller.
Cannot enable and disable "Staging mode" if extension attributes have been added.
Password writeback fails in some configuration because of a bad password on the Active Directory Connector.
DirSync cannot be upgraded if dn is used in attribute filtering.
A full list can be found here: https://azure.microsoft.com/en-us/documentation/articles/active-directory-aadconnect-version-history/.