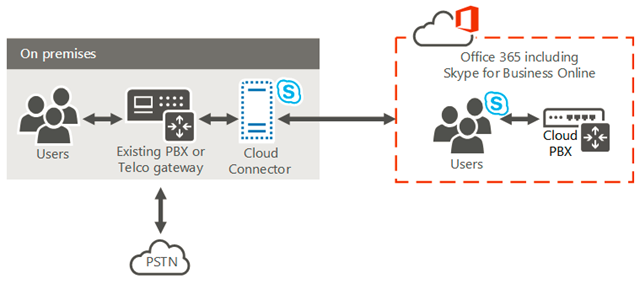 A few days ago Microsoft finally released the Cloud Connector Edition (CCE) for Skype for Business. The Cloud Connector Edition (CCE) is the latest update to Skype for Business, offering a hybrid solution to integrate local on-premise PBX with the Office 365 CloudPBX. For countries that don't yet have the possibility to use telephony directly in Office 365 (E5 plan) (Only available in the USA, as of writing), the CCE is a great set of components, giving organizations the possibility to connect the local on-premise PSTN or SIP Trunk, with your Office 365 tenant (Skype for Business Online).
So what is CCE and what are the licensing aspects around it ?
So what is Skype for Business CCE ?
Skype for Business Cloud Connector Edition (CCE) is a hybrid offering that consists of a set of packaged Virtual Machines (VMs) that implement on-premises PSTN connectivity with Cloud PBX. They are downloaded from the Microsoft website, more about the later.
By deploying a minimal Skype for Business Server topology in a virtualized environment on-premise, users in your organization, whether located in the cloud or on premises, will be able to send and receive calls with landlines and mobile phones through the existing on-premises voice infrastructure.
The packaged Virtual Machines (VMs), consists of four VMs, that are deployed and configured through a guided wizard, the four VMs are:
Domain Controller
Central Management Server (CMS)
Mediation Server
Edge Server
There is no dependency on existing AD infrastructure, it creates its own forest during deployment and the recommended placement of the servers would be in the DMZ. For companies that need High Availablity, the recommended way is to deploy 2 sets of CCEs (2 x 4 VMs, with 8 VMs in total).
Licensing
The licensing for the four servers included in the Cloud Connector Edition (CCE) is free. But licenses are needed for the users, which is part of the Office 365 – E5 plan, which needs to be given to all users, that need to use this new Hybrid Voice configuration.
How to get started
It is recommended to read the planning documentation and configuration on TechNet:
Download
Download the Cloud Connector Edition (CCE) here: http://aka.ms/getcce